Bamboozy Menstrual Disc Medium
€19.95
Multi-purpose cloth sanitary napkins made of organic cotton for a greener season!
Description
Additional information
Brand
Reviews (4)
Description
A menstrual disc is a variant of the menstrual cup. The advantages of a disc is that it absorbs more than sanitary towels, tampons or a menstrual cup. In addition, you do not suffer from unpleasant odors, irritation, and most women do not feel the disc. A menstrual disc is the only product worn internally that is not linked to TSS (Toxic Shock Syndrome).
Although the menstrual disc is not very well known in the Netherlands and Belgium, it is a product that has been on the market since 1994 and is widely used worldwide.
Why menstrual discs?
✔ 1 disc = 3000 tampons and pads
✔ Lasts up to 5-10 years
✔ Less risk of
leakage ✔ Empty without removing the disc (auto-dumping)
✔ Prevents leakage, at night, during sports, swimming and even during sex
✔ No unpleasant odors
✔ Less sensitive to bacterial and fungal infections
✔ Absorbs up to 5-7x as much as a tampon
✔ Can be used throughout your entire menstrual cycle
Why Bamboozy Menstrual Discs?
✔ Comfortable: Silicone collection surface of only 0.35mm, which makes it flexible and moves with the natural shapes of your body
✔ Strong: Despite the small thickness, it cannot tear
✔ Our disc is reusable
✔ Safe: 100% Medical grade silicone, FDA, CE , RoHS, SGS 2021 approvals
✔ Free from BPA, lead, chemicals, and plastics
✔ E-book for beginners
Where is the menstrual disc in relation to a menstrual cup?
A menstrual disk sits around your cervix and collects your blood. Unlike a cup, a disc does not draw a vacuum. A menstrual cup sits in your vaginal canal, lower than a disc.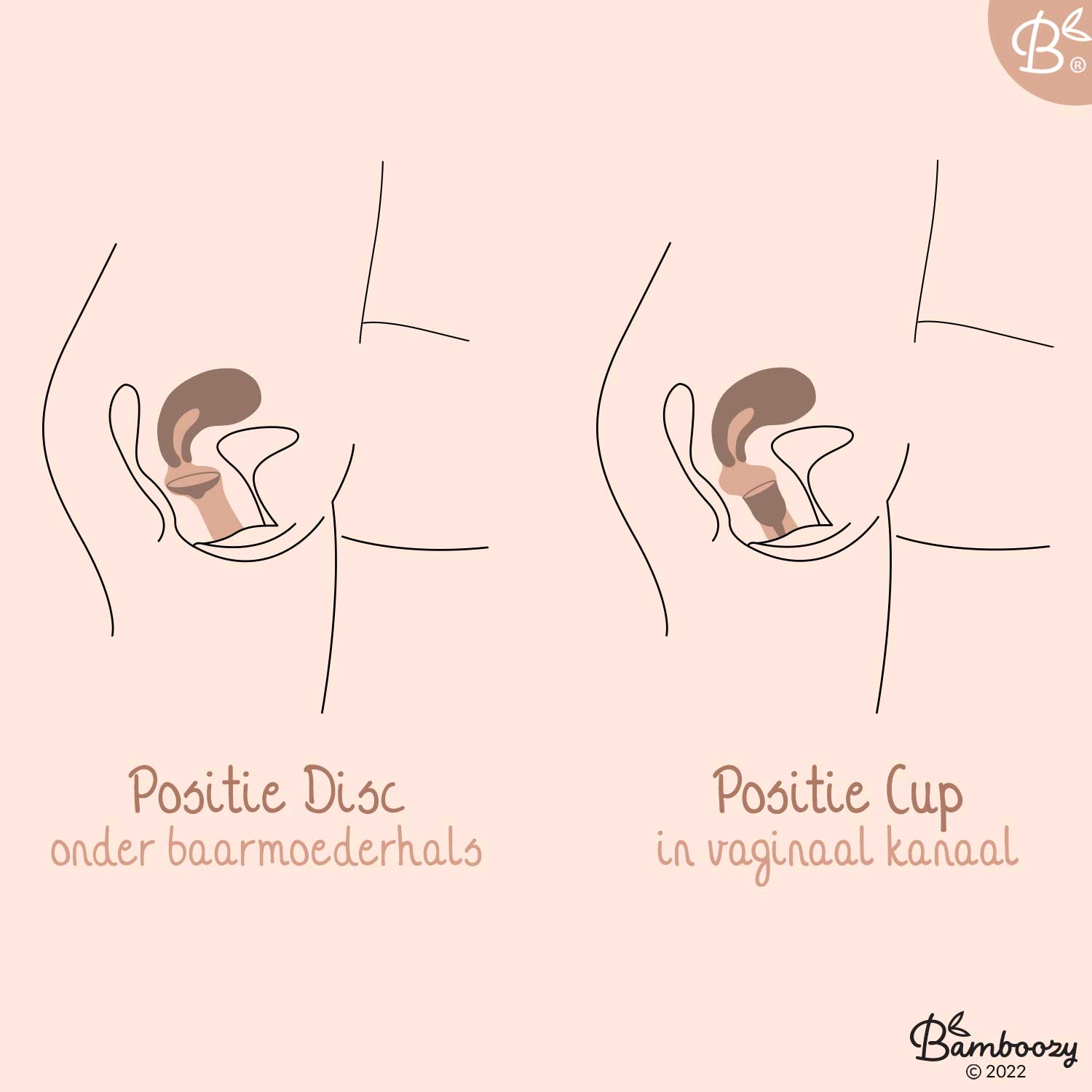 What size disc is right for me?
The size of our menstrual disc is based on the height of your cervix. During menstruation, the height of your cervix changes, so it is best to measure yourself during your period. Insert your index finger into your vagina and start feeling around. Your cervix feels round and has the same firmness as the tip of your nose. Measure how deep your finger went into your vagina.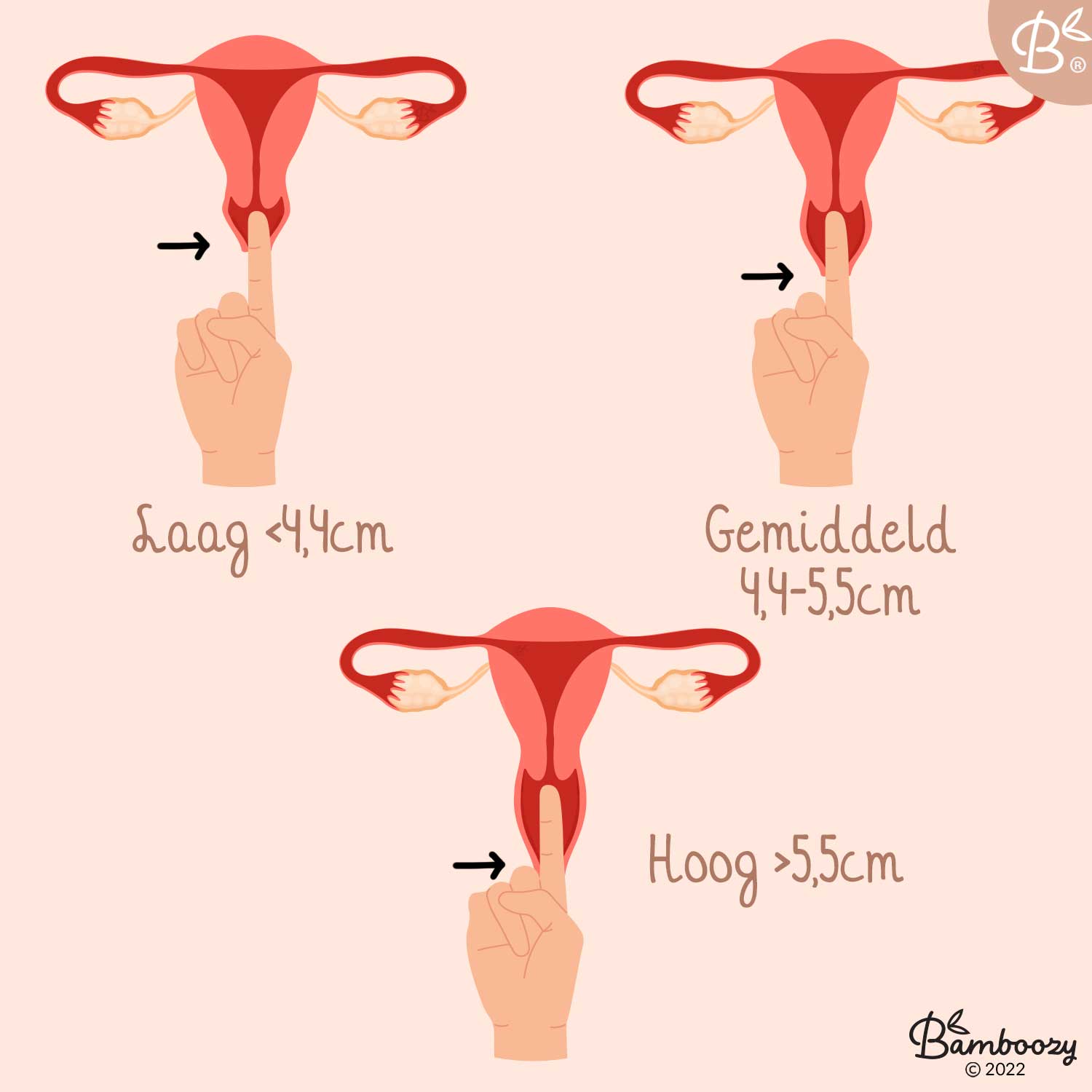 Low cervix: 4.4cm or shorter take Disc M
Average cervix: 4.5 – 5.5cm take Disc M
High cervix: 5.5cm or longer take Disc L
Is the use of menstrual discs also a risk of TSS?
No product is 100% safe from the risk of Toxic Shock Syndrome, including the menstrual disc, but the risk is much less. Menstrual cups and discs do not affect your mucous membrane. A cup does not absorb, but only collects. There are a total of two known cases of TSS and menstrual cups (no discs), in which the users did not comply with the instructions and kept the cup in place for much longer than the recommended 12 hours without sterilizing. The menstrual disc is made of the same material as our menstrual cups.
What about sex and menstrual discs?
Menstrual discs don't take up space in your vaginal canal, making them an ideal option for menstrual sex. They're at the base of your cervix, so as long as it's inserted properly, you and your partner shouldn't feel it. Please empty the disc beforehand!
That said, a particularly deep or enthusiastic sex session can cause it to shift. Some couples can feel the menstrual disc or still leak during sex.
How do I insert the disc?
Step 1: Wash your hands well before use.
Step 2: Get into the position that works for you. This can be sitting over the toilet, standing with one leg up, or crouching.
Step 3: Squeeze the sides of the disc so that it is the size of a tampon.
Step 4: Insert the pinched disc with the nub down into your vagina. Stand in a vertical position so that it completely covers your cervix.
Step 5: Make sure to push it past the pubic bone as far as possible so that the ridge slides in just above the bone.
Step 6: Is it your first time? Then wear (washable) sanitary pads or menstrual underwear as a backup
How do I remove the disc?
Step 1: Wash your hands well again
Step 2: Sit on the toilet or take a shower
Step 3: Insert your index finger into your vagina, hook it under the ridged edge and pull it straight out.
Step 4: If you have trouble reaching the disc, push with your pelvic muscles as if you were trying to poop. This will "loosen" the ridge from behind your pubic bone. If this doesn't work, try using your abs or diaphragm.
Step 5: Empty the contents into the toilet
You will find a detailed explanation of how to insert and remove the disc in our e-book for beginners. Read on for the autodumping concept . You can empty the disc without removing it, which is useful in public areas.
Will this reduce my menstrual cramps?
Menstrual discs seem to reduce some period-related pain, but not cramps specifically. A disc sits in the widest part of the vagina, making it less likely that you will feel the disc.
Tampons, on the other hand, sit lower in the vaginal canal, which is much narrower. When the tampon fills with blood and expands, it can cause cramps, according to them.
Can I keep the menstrual disc in all day?
Remove and empty your disc after a maximum of 12 hours.
What is auto dumping?
Unique to a menstrual disc is that you can empty the disc without removing it. A game changer for women who menstruate heavily instead of emptying the cup every 2-3 hours.
Autodumping doesn't work for everyone, because the fit isn't quite perfect for your body, but it can be a nice side effect.
It works during urination, where your posture and the tension of your muscles shift the disc slightly, and the contents spill out. It looks like your disc is leaking, but it pops right back up when you're done. You can also tilt the disc back with your finger.
How do I clean the disc?
After use, rinse the disc with running water. After your cycle you sterilize the disc by boiling it in water. Use the Bamboozy sterilizer for this, suitable for sterilizing in the microwave.
Can I exercise with a menstrual disc?
One of the biggest advantages of a disc is that you can exercise, go to the sauna, swim, cycle, dance for hours and sleep through the night – without any worries.
Do you have an IUD? You can use a disk at your own risk. Because it doesn't suck in a vacuum, you're less likely to take your IUD with you. We cannot rule out the possibility 100%. If necessary, consult your gynaecologist.

Start menstruating more sustainably with the use of a menstrual disc!
In the package
– Menstrual disc
– Cotton bag
– E-book (digital)